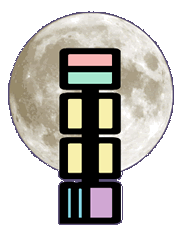 Stuff
In the grit strong wind of Hades a distant form may be made out...
The Return of the Broken Sorcerer.
Returns 11022011

Boommoon
Boommoon is, occasionally, Ian Rushbury, legendary bass and guitar player, who also plays (more regularly) for upteem other Birmingham bands. Mike Richards, renowned stick carrier, famed for his contributions to early Druidspear and the sheer brute force he is able to impact on anything percussive. Plus Go Birch (that's me). Originally we got together as the first line-up for James' band Druidspear in 1991, but also gigged as a 3 piece to showcase my songs. As a band we tend to only get together when I have written new lyrics, which is where we are today. (Christmas 2010). With a newly completed set of Go Birch lyrics and some musical ideas, we will soon be starting rehearsals to work out the arrangements. Hopefully, I can persaude John Hawkins (This Island Earth) to contribute to the rehearsals (although he should know better) and the plan is for Neu Birch to do the vocals instead of me (stop cheering). I am using this site for the older songs however, and will put early demo versions of the new songs onto the Go Birch site early 2011. On this site there is also the only studio recording we did as Big Moon, Silver Sister to listen to.
Boommoon Go Digital
It's a few years (1995/6?) since Ian and I produced (knocked out) the earlier Boommoon album, 601, and, with new technology I am digitally remixing it and putting the tracks onto this site. Again Neu Birch will replace my vocals (what have I told you about that?), but for now there are some demo versions with my vocals available to listen to on the demo page.
Other News
Check out The Ultraphonics, one of workaholic Ian Rushbury's bands, at www.myspace.com/rectifyrecordsuk.
Until more progress with the remixes and the new album is made this site will remain somewhat sparse.
In addition, a whole bunch of early Big Moon rehearsal tapes have been unearthed and, in the name of posterity, will be converted to digital and added to this site. The first ever evening spent with Phil putting chords to lyrics is here. Most are from the original line up of Go Birch, Jim Binning, Phil Middleton and Adam Fisher on drums, (with Daveid Stinson joining on bass a little later), and include early versions of songs that became the initial respective sets for the two offshoot bands, Boommoon and pagan rock legends, Druidspear.
Talking of Druidspear... there is a new Druidspear album being released on 11022011. The new Druidspear website will launch the same day and will include an archived history of the band from the orginal line - James Binning, Ian Paul Rushbury, Go Birch and Mike Richards through it's many personnel changes (once a member, always a member) to the present day. There are tons of tracks and videos being added!
In the grit strong wind of Hades a distant form may be made out...